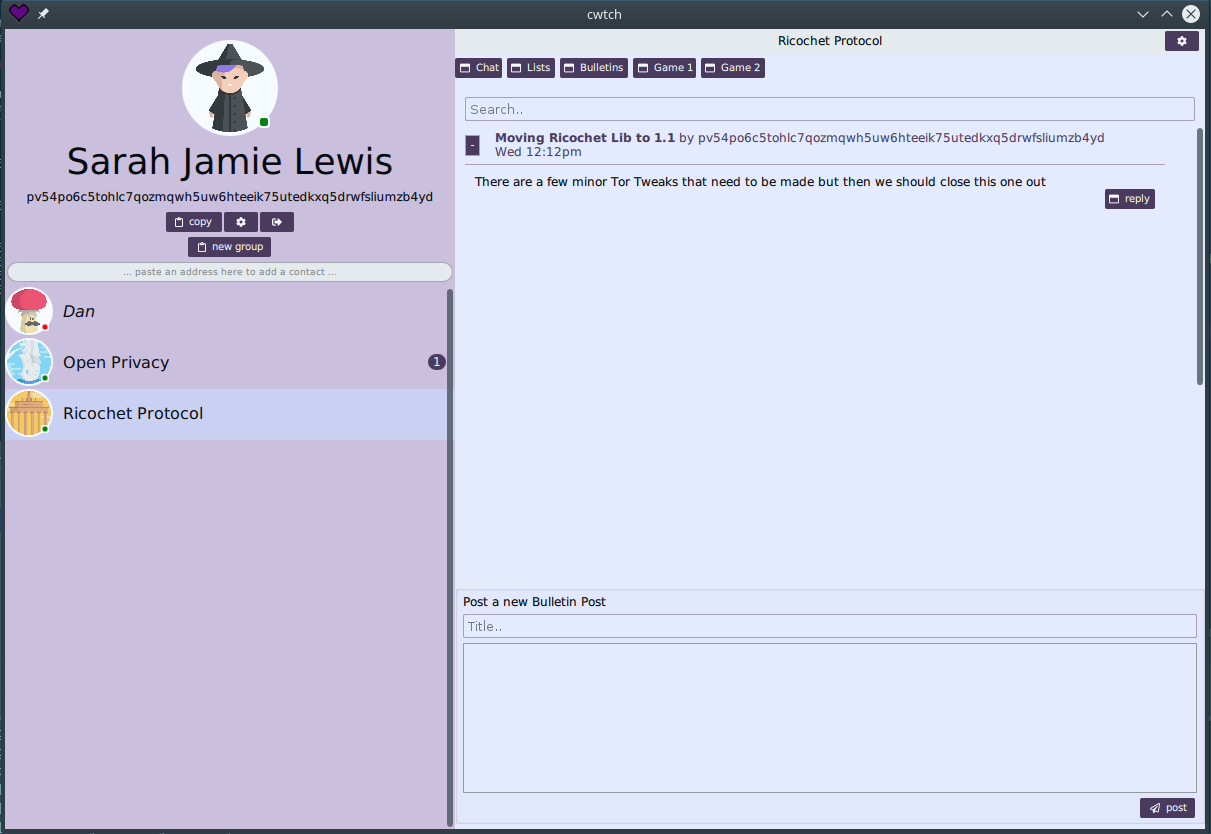 Happy Valentine's Day: Announcing Cwtch Alpha, A Start to Building Consensual Applications
14 Feb 2019
Cwtch is a Welsh word roughly translating to "a hug that creates a safe place". Cwtch is also our decentralized, privacy-preserving, asynchronous multi-party messaging protocol that can be used to build consensual applications.
What better day to launch the alpha of a project designed to bring people together safely and securely than on Valentine's day?
What is Cwtch
What exactly does all this mean? Cwtch is:
Decentralized: There is no "Cwtch service" or "Cwtch network". Participants in Cwtch can host their own safe spaces, or lend their infrastructure to others seeking a safe space.
Privacy Preserving: All communication in Cwtch is end-to-end encrypted and takes place over Tor onion services. While long-lived infrastructure is used to provide many features like offline messaging, it is untrusted and never has access to any information about the peers or the groups that are using them.
Asynchronous & Multi Party: Cwtch is inspired by and based on Ricochet, a peer-to-peer instant messaging system also built on Tor onion services. However, Ricochet only supports online two-party messaging. Cwtch extends and enhances the protocol to support multi-party messaging and offline messaging.
Metadata Resistant: Cwtch has been designed such that no information is exchanged or available to anyone without their explicit consent, including on-the-wire messages and protocol metadata.
All of this combined means that unlike most messaging systems, Cwtch not only encrypts the contents of a communication; it also protects the context of the communication. Being built on Tor gives us strong censorship circumvention properties. End-to-end encryption protects what we're saying, and metadata resistance prevents server operators from learning who we are speaking to and when.
Desktop and Android Alpha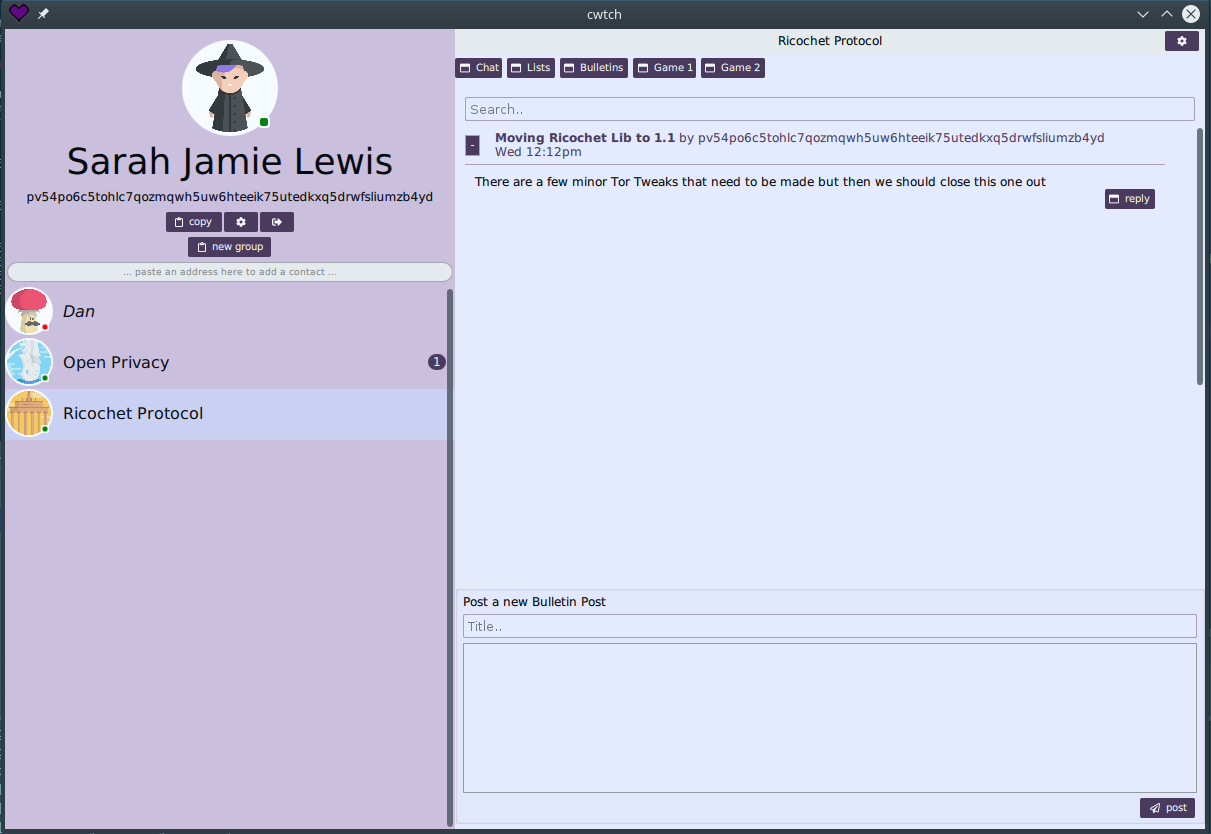 Today we are releasing the code and compiled binaries for the Cwtch Desktop and Android releases. Cwtch is an experimental concept and prototype. We do not recommend you use Cwtch today if you require secure communication. At least, not yet.
Cwtch apps provide, decentralized, privacy preserving, and metadata resistant:
1-to-1 Ephemeral Chats - Using an upgraded Ricochet protocol.
Asychronous Group Chats - Using Untrusted Infrastructure.
Shared Group Lists - For keeping track of day to day group tasks.
Shared, Searchable Group Bulletin Board - For posting adverts and other longer lasting information.
Even a Puzzle Game!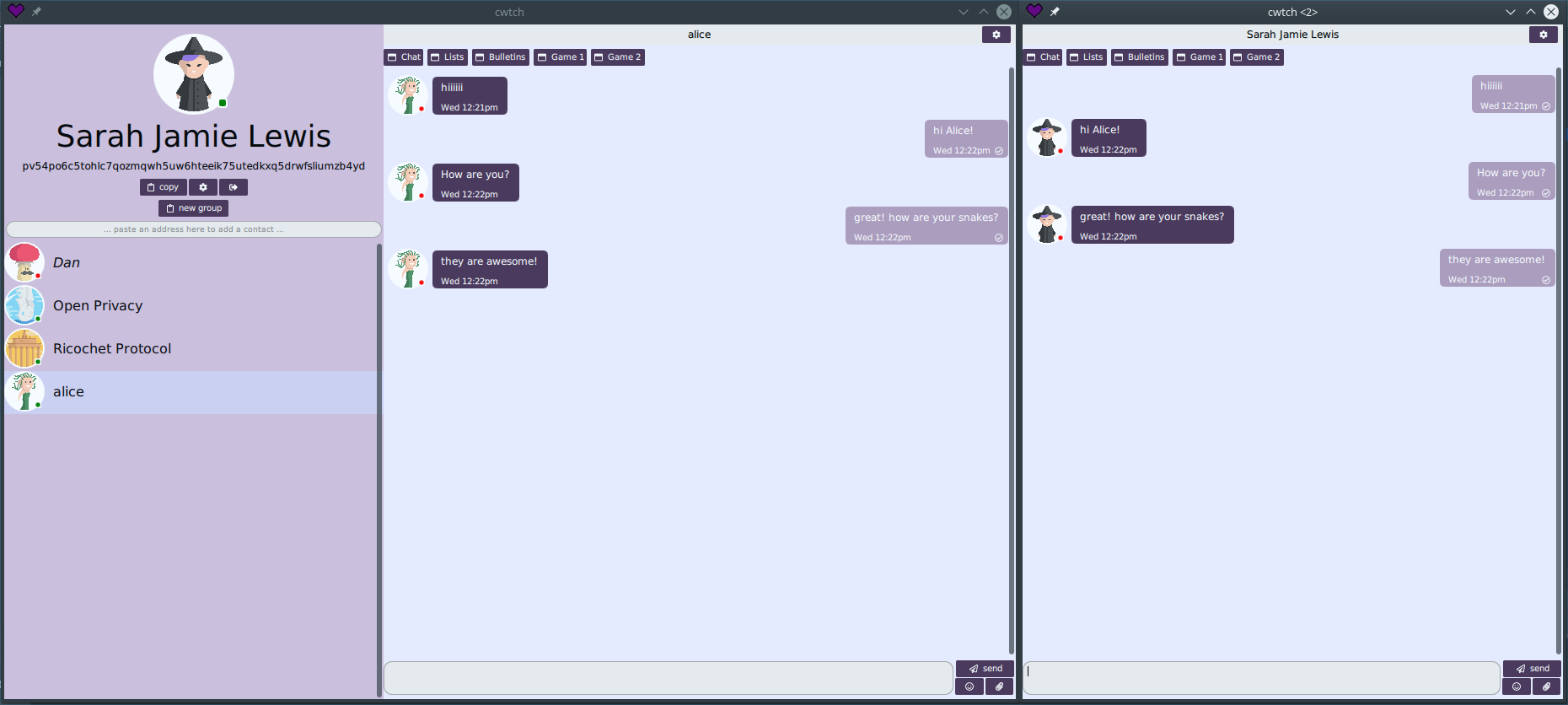 If you take away anything from this announcement it should be that Cwtch isn't just another messaging app. It is a platform on which to build consensual applications.
The Future
There is much to do! In addition to standard usability improvements, accessibility upgrades and security assessments we also have research plans to include multidevice syncing, improving reliability by spreading load across different Cwtch servers, and experimenting with integrations of different anonymity networks like i2p.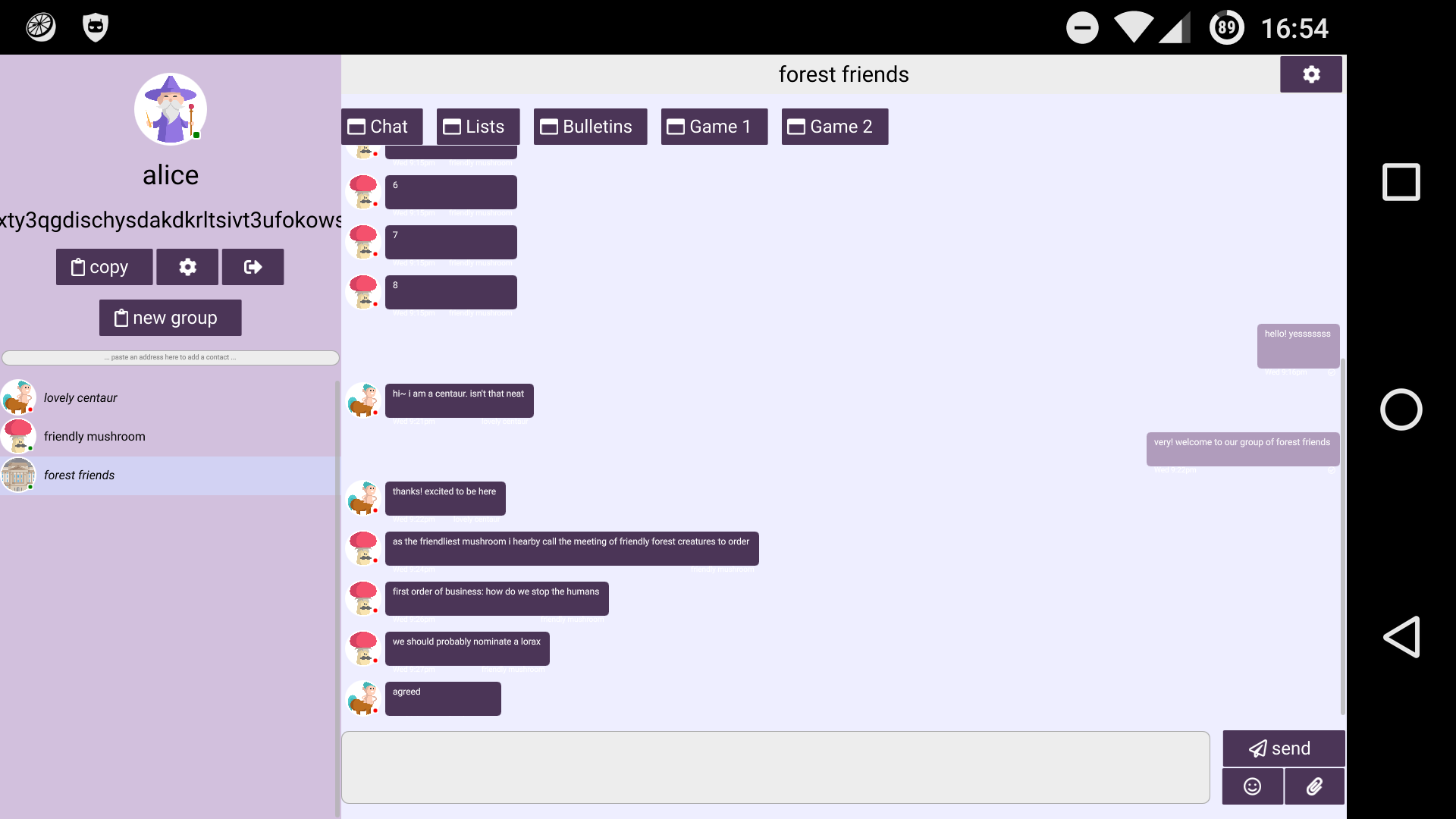 Most importantly we want others to start building applications on top of Cwtch. We have a number of ideas, but we are sure that you do too! Please jump right in, reach out to us, and start experimenting.
Cwtch was conceived and designed as an open system, there are no central dependencies and it can be extended at multiple layers in many different directions. The Cwtch UI is one such extension of the core framework to support shared lists, forums and games - there are definitely many other possible applications at this layer, and in others, and we are excited to see how Cwtch evolves.
We Need Your Support!
All of the development of Cwtch has been funded by you, our donors and supporters. The code has been written by our staff as well as by our volunteers. If we are to bring Cwtch beyond Alpha and offer it as something that everyone can use, we need your help:
Donate to Open Privacy - We need to fund further research work with marginalized communities, security reviews and accessibility assessments.
Volunteer UI Design, Programming and/or Research Skills on our Volunteer List.
Check out the Code
Thank you so much for all your have done to support new and innovative tools that really uphold the ideals of consent and inclusiveness!
The Open Privacy Staff