Your donations go to funding our projects, research, and covering the day to day costs of running Open Privacy.
2018 Goal
$51,604.67 / $66,000
* There may be slight fluctuations in the meter as many of our donations are in cryptocurrencies
Ways to Donate
One of the best ways to support Open Privacy is with steady monthly donations on Patreon:

All one time donations are appreciated. They can be made via PayPal:
or via Bitcoin:
1CuHEFpQoYHTTFYwkc5uHN4TPsGaw45DN3
or via Zcash:
zcfJVrE62yRcWQuZrHs5BATy1xjXA6BYAQqGB29t4f25fN3NPjcaa7cPwk92hstHnZsvaW1r1qBTRqfFVSundScaMWGAKiB
or via Monero:
881k3fqXxgL67djvJ5oLAJNseoWqRNBvz6oWVuLhoogCYxV6aXqtoEgHTZj7ZYmFenbAPdYDsmbjgY6AYmK66SBXPg2W7rT
Open Privacy is an incorporated non-profit society in British Columbia, Canada. Donations are not tax deductible.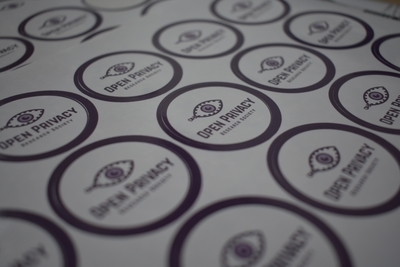 Stickers are available as donation rewards. You will automatically receive stickers from Patreon. For donation by any other method, please email us at contact@openprivacy.ca about your donation and with a mailing address and we will get some stickers to you.