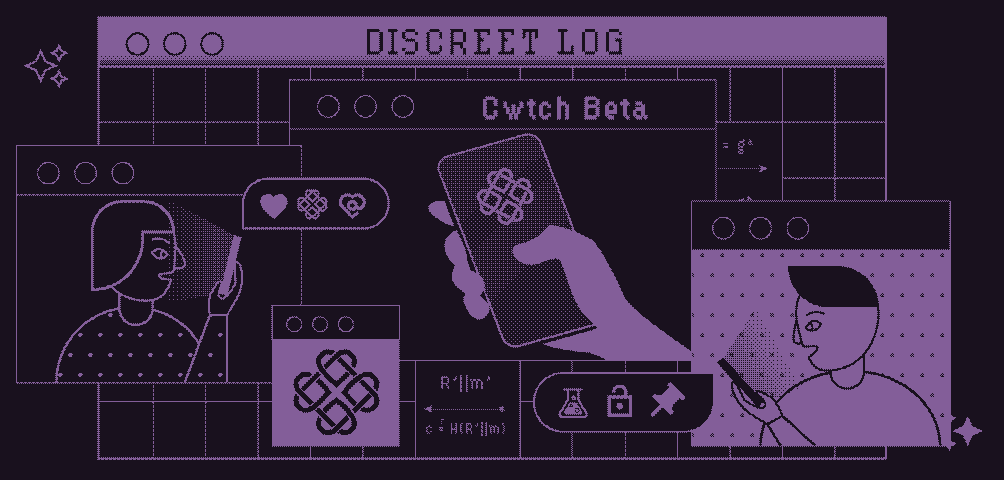 Discreet Log #10: Cwtch Beta and Beyond
25 Jun 2021
Welcome to Discreet Log! A fortnightly technical development blog to provide an in-depth look into the research, projects and tools that we work on at Open Privacy. For our tenth post
Sarah Jamie Lewis
announces the Beta release of Cwtch, a decentralized, privacy preserving platform.
---
Today I am so proud to be announcing the official start of the Cwtch Beta series of releases with support for Windows, Linux and Android devices.
Release builds are now available to download from cwtch.im, and will soon be available from the Google Android Playstore.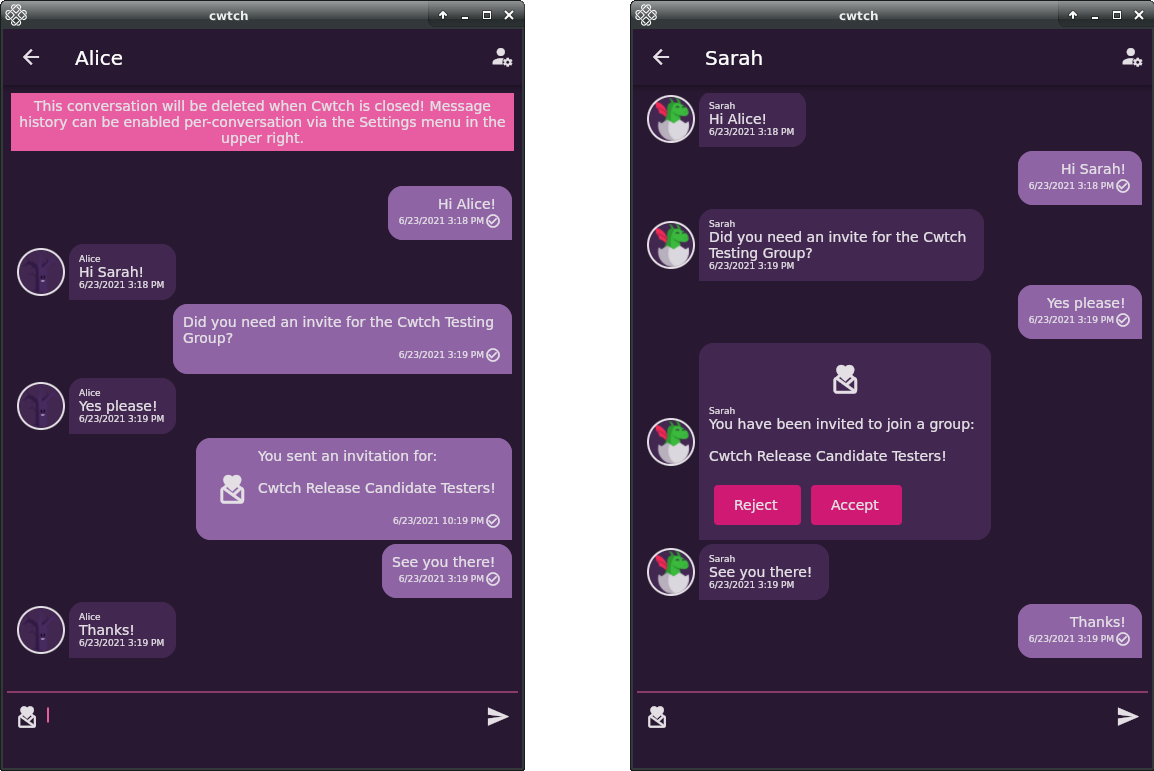 What is Cwtch?
Cwtch (a Welsh word roughly translating to "a hug that creates a safe place") is a decentralized, privacy-preserving, asynchronous multi-party messaging protocol that can be used to build metadata resistant applications.
Decentralized and Open: There is no "Cwtch service" or "Cwtch network". Participants in Cwtch can host their own safe spaces, or lend their infrastructure to others seeking a safe space. The Cwtch protocol is open, and anyone is free to build bots, services and user interfaces and integrate and interact with Cwtch.
Privacy Preserving: All communication in Cwtch is end-to-end encrypted and takes place over Tor onion services. While long-lived infrastructure is used to provide many features like offline messaging, it is untrusted and never has access to any information about the peers or the groups that are using them.
Metadata Resistant: Cwtch has been designed such that no information is exchanged or available to anyone without their explicit consent, including on-the-wire messages and protocol metadata.
All of this combined means that unlike most messaging systems, Cwtch not only encrypts the contents of a communication; it also protects the context of the communication. Using Tor v3 onion services provides strong censorship circumvention properties. End-to-end encryption protects what we're saying, and metadata resistance prevents server operators from learning who we are speaking to and when.
How we got here
3 years ago, on the 28th June 2018, we published the first official announcement of Cwtch. Throughout 2019 we published various Alpha releases of Cwtch. The original plan was to release a stable Cwtch Beta in 2020.
Like so many other projects in 2020, Cwtch Beta was delayed, and towards the end of 2020 it became clear that our original approach to a cross-platform UI was not sustainable long term.
We have spent the last 6 months building a new UI for Cwtch in flutter, in addition to making major stability updates to Cwtch and related libraries - and over the last few months we have moved the majority of Open Privacy internal communications over to Cwtch.
As a result we now believe Cwtch is ready for larger scale testing, deployments and day-to-day use.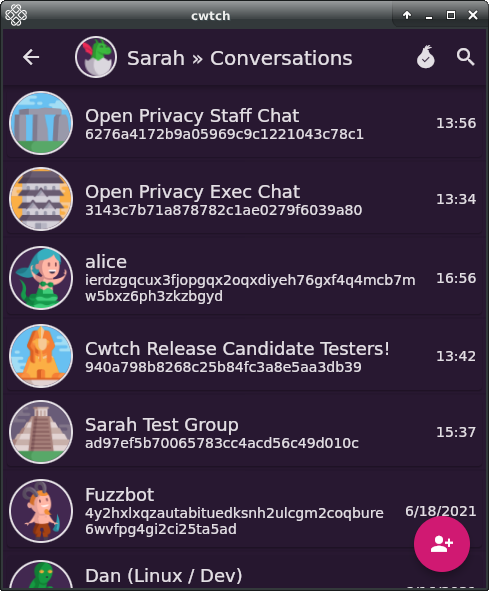 Next Steps
The move from Alpha to Beta releases signifies a major change in philosophy towards Cwtch releases - a move from an experimental prototype to a stable, but nascent, decentralized communication tool.
There is so much more we want to do:
Move Cwtch Groups from Experimental to Stable including the addition of Hybrid Groups that can use peer-to-peer connections to sync timelines.
Expand Cwtch Applications: the beta launch only provides peer to peer & group messaging, and invitations as application overlays. Later releases in this series will include additional overlays such as lists, and bulletin boards, in addition to file sharing and perhaps more experimental deployments of anonymous voting and random number generation.
Integrate additional Anonymous Communication Networks - including an integration of Niwl.
Release polished versions of our bot framework for Cwtch.
Multi-device support.
Enhanced server support (including in-app server hosting).
Much, much more (funding depending!)
A Big Thank You
I want to take this opportunity to thank the Cwtch core team: Dan Ballard, Erinn Atwater and Marcia Díaz Agudelo - this work isn't glamorous, and doesn't pay well, there is no profit to be made in decentralizing power.
It takes a special kind of person to be willing to spend a significant fraction of their lives devoted to working on something for the benefit of other people. Thank you for believing in this mission.
I also want to say thank you to all the people who tested Cwtch over the years and provided invaluable feedback, bug reports and critique. You have made Cwtch what it is today, and I am sure you will be making it even better in the coming weeks, months, and years.
Last, but certainly not least, I want to extend a big thank you to all of the supporters of Open Privacy around the world - without your donations and continued enthusiasm for the work that we do, none of this would be possible.

Sarah Jamie Lewis
Executive Director, Open Privacy Research Society